Description
Related
pvc braided gas hose
pvc braided gas hose Specification:
High pressure resistance
Excellent and easy to handle
Good flexible and durability against climate, abrasion, chemical agent
Temperatures: -5°C To +65°C
Meets the international standard coupling according to the order
We can produce all kinds of specification according to customers' demand.
Size from 1/4" to 1"
With different color, yellow, green, red. ect
Work pressure: 0-40 bar.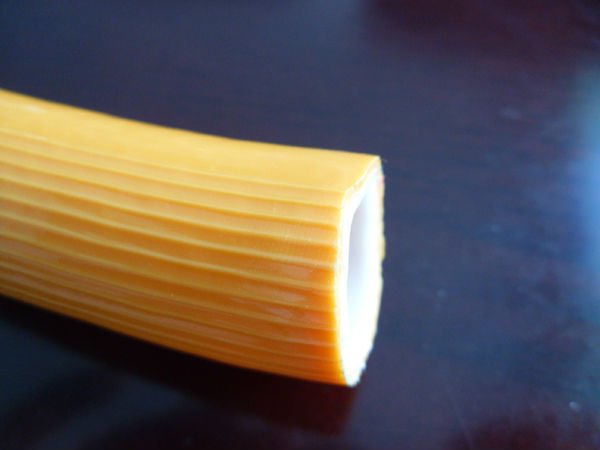 pvc braided gas hose is light, flexible, age-resistant, corresion-resistant. Compared with rubber hose, it is fine in appearance and small in flow resistance. pvc gas hoseis applied in agricultral sprayer and high pressue in cleaning vehicles.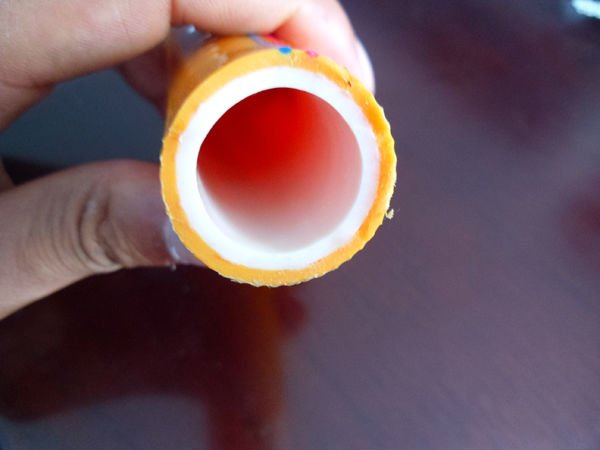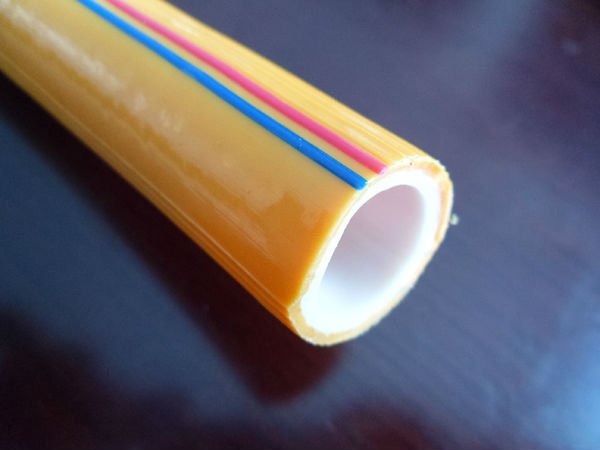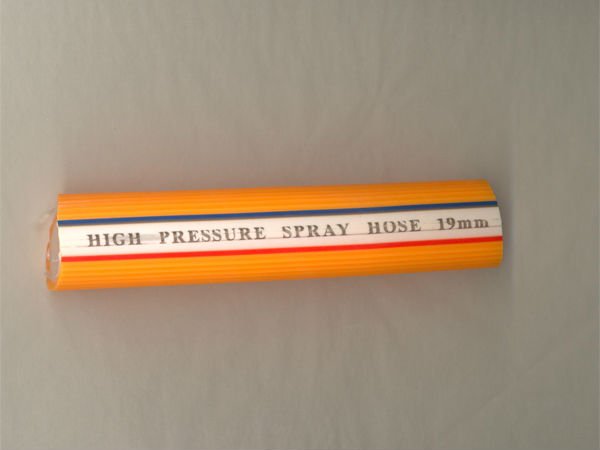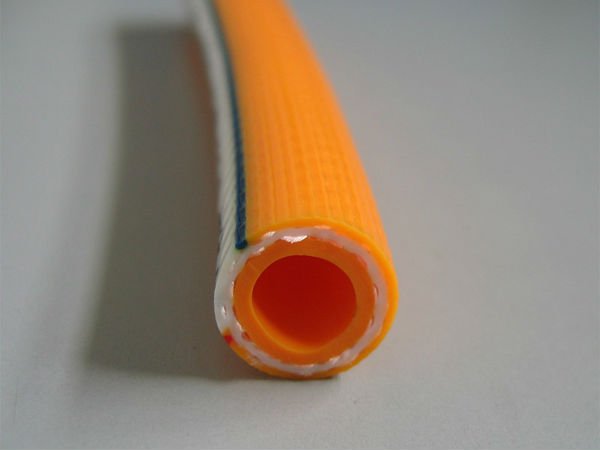 pvc braided gas hose Adopting qualified PVC synthesis materials with built-in reinforced fibre. Light weight, easy for using. Applicable to kinds of air pump and air compressor and so on.
Pressure and length is upon client's requirements.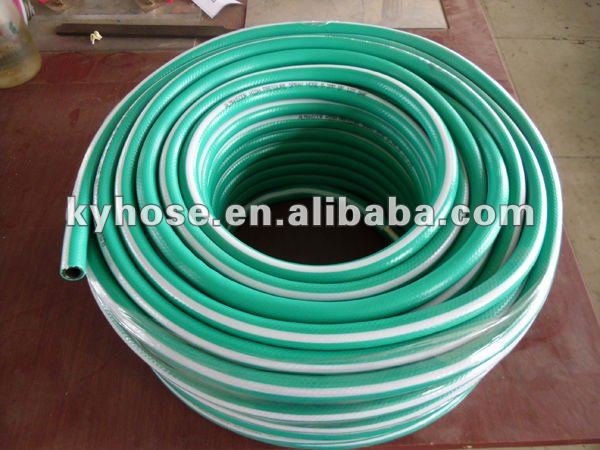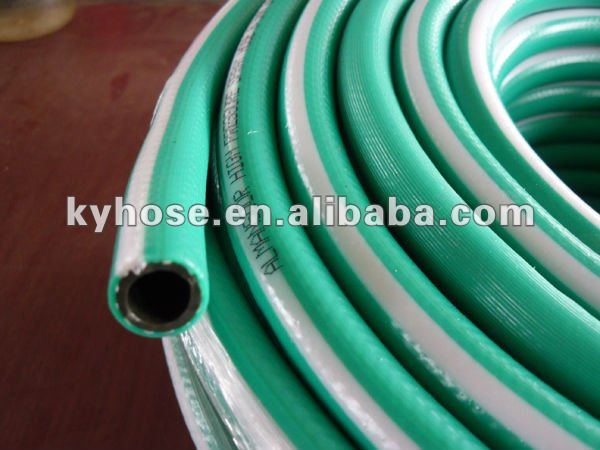 pvc braided gas hose applications:
pvc braided gas hose is specially used in pneumatic tools,pneumatic washing apparatus,compressors,engine components,machinery service tools,pesticide spraying machines and high pressure washing machine.Gardening,car spray washing,floor cleaning,other daily life uses.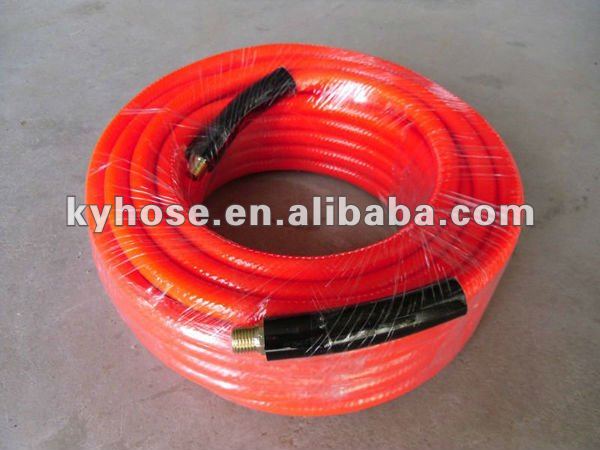 1.pvc braided gas hose mainly used for spraying agricultural chemicals in agriculture and high pressure water ,air or other liquids in high pressure washing machine,construction machinery and industry production.
2.Tube : Black or other colors flexible PVC.
3.Reinforcement : High tensile synthetic fibre spiraled .
4.Cover : Yellow flexible PVC ,surfaces of cover can be smooth and corrugated .
5.pvc braided gas hose Characteristics:Abrasion resistant ,weather resistant ,oil resistant ,acid and alkali resistant and corrosion resistant .Its of high pressure bearable ,flexible ,light in weight ,anti-bending and nice bright surface.
6.Standard length: 50m,100m.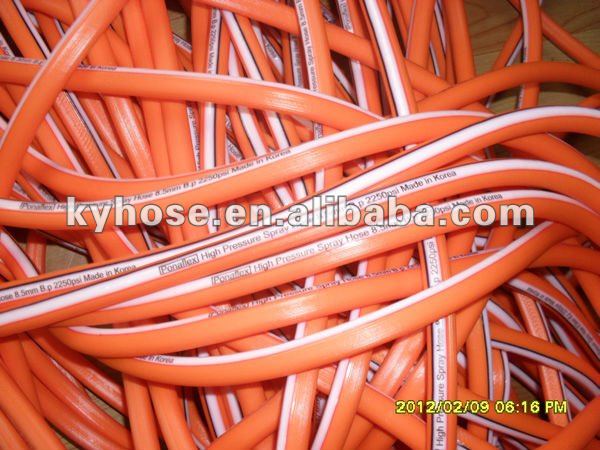 (1) Adopting qualified PVC synthesis materials with built-in reinforced fiber.
(2) Light weight, easy to handle.
(3) Applicable to all kinds of air pumps and air compressors.
(4) Good durability
(5) To match international standard couplings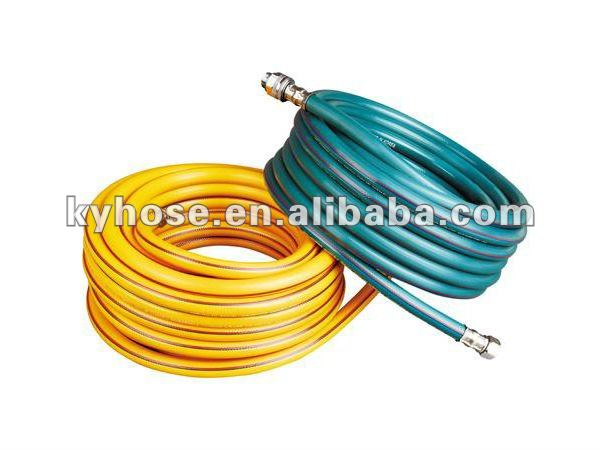 pvc braided gas hose characteristics:
pvc braided gas hose being made of tough pvc materials and high tensileknitted polyester reinforcement,this hose can work underhigh working pressure.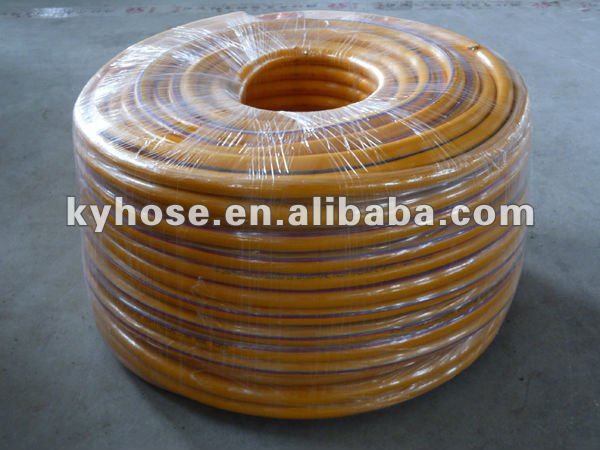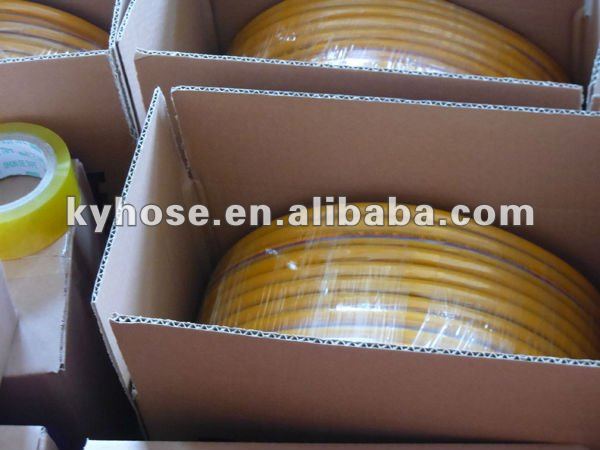 pvc braided gas hose is flexible,transparent,durable,non-toxic,odourless,anti-erosion and adaptable to high pressure conditon,By adding colourful symbol lines on the surface of the hose,it looks more beautiful,explosionresistant,and adaptable to hard weather conditions.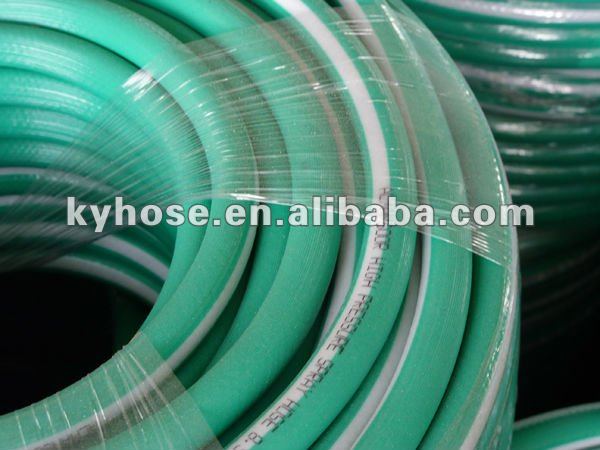 pvc braided gas hose has good weather and abrasion resistantance;
Has good burst strength,withstands nozzle shut-off.
This kind of hose is made from good qualtiy PVC.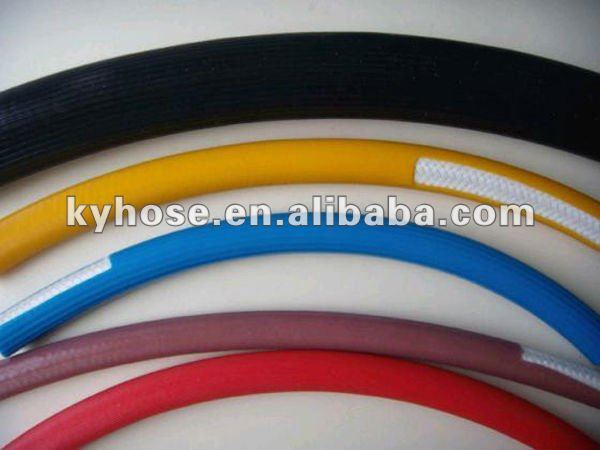 Welcome to contact us and choose our pvc braided gas hose,or you can visit our website:http://www.wfkyhose.com to learn more information about pvc hose.
Imperial meters

Metric Measurement

W.P

B.P

Weight

Packing Measurement

volume

At23°C

lnch

l.D.mm

O.D.mm

m/roll

MPa

MPa

Kg/roll

DxHmm

M³

1/4

6

11

100

2.1

6.5

9

36.*220

0.286

5/16

8

13.5

2.5

7.0

13

390*220

0.033

3/8

9

15

2.7

8.0

15

460*220

0.047

13/32

10

16

16.5

480*180

0.041

1/2

12

18

2.0

6.0

19

480*250

0.058

5/8

15

22

27

560*250

0.078